HOW IT WORKED
: Each week, two recipes engaged in a flavorful head-to-head battle that was featured on the brand's social channels. Weekly matchups featured a variety of the brand's most popular flavor profiles as well as custom recipes specially created for the promotion. Fans and social followers cheered on, telling the brand which recipe most made their mouth water. 
AN UNRIVALED PRIZE:
 While several fans were gifted product and grilling utensils, only one lucky fan won an unforgettable tailgate package including tickets to see their favorite college football team play their biggest rival.
Big games deserve big flavor, so the brand traveled to some of college football's most exciting venues, like the world's largest tailgate for an exciting matchup between Georgia and Florida and the "Big House" in Ann Arbor for a pivotal matchup between two top ten rivals—Wisconsin and undefeated Michigan.
Fans at home could follow along on Facebook Live, catching a special performance by the University of Michigan Marching Band before kickoff.

While those who were at the game captured and shared the performance on social networks, securing additional impressions for the promotion and brand.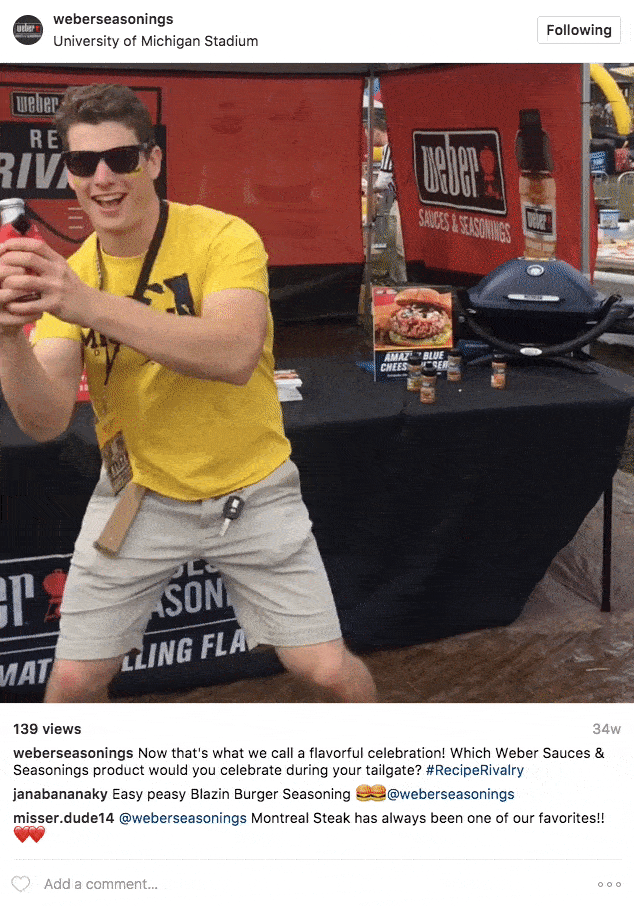 Brand ambassadors fired up the grills and brought the rivalry to the streets. Fans tasted and casted their vote for one of the two custom burgers created for the big game; Amazin' Blue Cheese Burger vs Cheddar Cheesehead Burger. Regardless of how the fans voted, the clear winner was Weber's Gourmet Burger seasoning.

Whether it is at a tailgate or in the backyard—only Weber Sauces & Seasonings can deliver the most mouthwatering flavor. By pitting the brand's best tailgating recipes against each other, Weber Sauces & Seasonings found the point where the consumer's passion for sports met their passion for grilling. 

Associate Creative Director: Jack Liebl
Art Director: Alyssa Gauger
Copywriter: Lauren Ophaug & Landon Dinnin
Photography: Jason Little